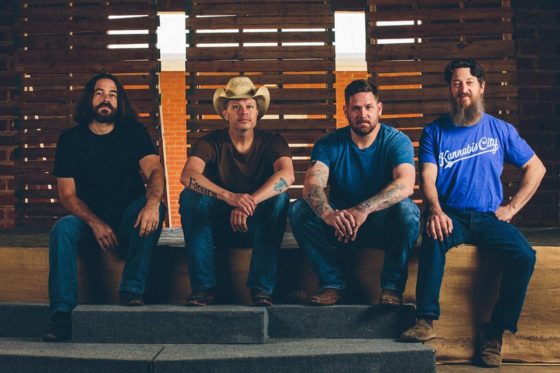 Jason Boland & The Stragglers
Date:

2018-11-09

Time:

08:00

Location:

Iowa City, IA

Venue:

First Avenue Club – 1550 S. First Ave.
The First Avenue Club welcomes Jason Boland & The Stragglers with special guest Mike and the Moonpies on Friday, November 9th. Doors are 7:00 and the show is at 8:00. This is an all ages show. Call the club with any questions: 319-337-5527.
Jason Boland & The Stragglers Bio:
Music is having a moment. Listeners are crying out for something true––some meaty songs that'll give us some comfort, even as they cut closer to the bone.
Everyone is finally ready for the gritty, thundering country Jason Boland and the Stragglers have sharpened over almost 20 years' worth of selling out roomy venues and commanding stages across the nation. And new album Squelch provides the ideal vehicle.
"We're just trying to make something that we're proud of," lead songwriter and vocalist Boland says. "If any more people want to take notice of it, they're welcome."
Since coming together in Stillwater, Oklahoma, Boland and his tightknit crew have sold more than half a million albums independently and earned a devoted following that's swelled far beyond the band's red dirt roots. At a Stragglers show, oil patch roughnecks, hippies, college kids, and intelligentsia all sway side-by-side like a traveling reincarnation of Austin's Armadillo World Headquarters in its cosmic cowboy, Willie Nelson heyday.
While the Stragglers draw from rock and folk, make no mistake: they traffic in unfiltered, unfettered honky-tonk, raw and lean. Equal parts subtle, meditative, and snarling, and often wickedly funny, Squelch is a deeply rooted exercise in exhuming beauty by trading smoke and mirrors for what's real.
"We pay homage, but we don't want to copy or be a throwback act," Boland says. "All you can do is try to take the music that inspires you and take it further. And make it personal." If he has felt any pressure to make his "personal" what others have in mind, it doesn't show. Boland has never constructed an identity or sound for mass or even niche consumption. He is who he is, and he's all in.