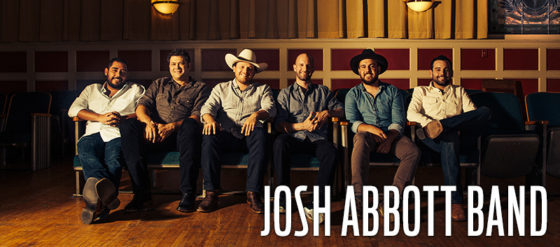 Josh Abbott Band
Date:

2018-03-08

Time:

08:00

Location:

Iowa City, IA

Venue:

First Avenue Club
The First Avenue Club welcomes back the Josh Abbott Bans on Thursday, March 8th.
Doors will open at 7:00 and the show will start at 8:00. Tickets are just $20 and on sale now. This is an all ages show.
ABOUT THE BAND
Thanks to its inherently upbeat and singable material, Josh Abbott Band has become one of the leading acts in Texas music, winning four trophies in the inaugural Texas Regional Radio Awards. But JAB has national cred to boot – it's landed three singles on the Billboard Hot Country Songs chart – including "Oh, Tonight," the first charted track to feature Grammy-winning Kacey Musgraves – and nabbed a Top 10 album with the 2012 release Small Town Family Dreams and reached No. 12 with the 2014 EP Tuesday Night. The six-piece ensemble is releasing its most ambitious project to date with the 2015 album Front Row Seat, a song cycle that follows a relationship from first meeting through its euphoric rise to a difficult breakup and contemplative aftermath. The release is accompanied by a national tour that takes the band to some of America's most iconic country clubs.